Testimonials
To Kim and all the team I wanted to thank you for the fantastic service you I received whilst organising flowers for my Father-in-laws funeral. Nothing was too much trouble for you and your team, the funeral flowers were wonderful, with care taken to include everything that was special to each family member. We brought the funeral flowers home and put them in the garden so mum could see them, A week later with snow, frost and rain the flowers from starlings are looking as fresh as the day they arrived. Flowers from other florists are well past their best. I recently received gifts of beautiful flowers that family ordered from Starlings and I was very pleased with them thank you. Perfect
Lisa - 05/04/2022
---
Thank you for an absolutely incredible service, very polite and consiensous, even let me change my arrangement before delivery which I had specified a timeframe for and they delivered when they said would. Absolutely made mine and my wife's day!
Grant - 29/01/2022
---
Very satisfied with the service after calling from oversea to have some flowers delivered. Pleasant chat and good communication over the phone. Would most definitely use this service again.
Trevor - 25/01/2022
---
I'd just like to say a big thank you to you for my mum's bouquet that you delivered to her yesterday for her birthday. It was absolutely beautiful and she was over the moon with it. As always, great service and the best at what you do. Many thanks,
Maxine - 19/01/2022
---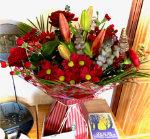 Wonderful family-run shop in the heart of Swaffham. Been here for years. Take a pride in their fruit and veg, and their flowers are exceptional. Asked them to deliver Christmas flowers for my mum in a care home at very short notice and they came up trumps with the most fantastic bouquet she's ever seen. An absolute gem!
David - 31/12/2021
---
Hello. I just wanted to say thank you for the beautiful flowers that you delivered on Saturday. My mother loves them. The care that you had taken to select and arrange them was very apparent. I have bought from other local florists and none have shown such an eye for detail. I thought that the coloured paper was a particularly nice touch. Thanks again
Jake - 24/08/2021
---
Starlings of Swaffham is the kind of local shop every high street should have. Over the past year, through difficult circumstances, they have consistently provided excellent, personal service of the highest standard with kindness and compassion. Their flowers are personally chosen with the recipient in mind and always reliably delivered. We must support this kind of business to keep our communities alive. Thank you to all the team of Starlings for beautiful flowers and service. Also love your local honey and apple juice!!
Fiona - 30/04/2021
---
I just want to thank you very much for the excellent flower arrangement you delivered yesterday for my wife's birthday. The colours and scent are wonderful. She is thrilled to bits.
Thank you.
Martin - 30/04/2021
---
Just wanted to say a massive thank you for the flowers I ordered for my mum for Mother's Day. Mum is over the moon with them. She says the arrangement is stunning and the flowers are super fresh. She also said that the delivery guy was really lovely and gave her advice on how to keep them fresher for longer. Thank you to everyone involved for making my mum so happy with your beautiful arrangement and service.
Tessa - 15/03/2021
---
Hi , would just like to say a massive thankyou to Kim and the team for mothers day . You went out of your way to make and deliver a beautiful arrangement early . One very happy mum x
Karen - 15/03/2021
---
Hi. On behalf of our family and friends, I would like to say a massive thank you for making amazing and beautiful flower arrangements for my mothers funeral. Mum loved flowers so much, and we know she would of loved each and every one of the stunning arrangements. Truly stunning, Thank you once again
Karen G - 27/02/2021
---
Kim and Jola The flower arrangement delivered to my Mum for her special birthday was beautiful.
Lovely bright colours - she was so pleased. Your service is outstanding - thank you so much.

Gill - 18/02/2021
---
I just wanted to thank you for such a great service! My mum received her beautiful flowers so quickly after I put through the order this morning and she said the delivery man was so nice! It made her day and cheered her up so I'm very grateful.

Thank you so much!
Helen - 29/01/2021
---
Such an amazing, wonderful florists.Have gone above and beyond for sorting out what I wanted sent. Not only put a smile on the face of the recipient but also mine. Can't thank the wonderful staff enough. Best place by far. My NO1 place evvvvver. Thank you all xx
Natty - 15/01/2021
---
Hello,
I just wanted to leave a review, to say thank you for delivering such gorgeous flowers. They have been packaged so wonderfully! The man who delivered them gave me some advice on how to make them last longer. Great service, thank you very much.
Bella and Charlie - 21/12/2020
---
Hi Kim,

Just wanted to say thank you SO much, mum was absolutely over the moon with the beautiful flowers, she sent me photos (lots of) :) as she loved them so so much.
Please tell Rachel her work was just wonderful! Beautiful colours and so beautifully arranged, just perfect.

Thank you all again,
Jo - 30/11/2020
---
Hi Rachel
Thank you so much. I popped round to see the recipient late on this afternoon and she showed me the flowers. She is thrilled with them and I thought they were beautiful. Delivered so promptly too.
Thank you so much.
Sally - 11/11/2020
---
Dear Rachel, Kim and all the staff at Starlings,
Thank you so much for the amazing bouquet of flowers you arranged and delivered for my sister's 25th wedding anniversary, yesterday.
The whole bouquet was stunning and the silver wicker heart was a brilliant finishing touch! My sister and brother-in-law were absolutely thrilled with it. Yellow roses and Scottish thistles were in my sisters bouquet on their wedding day and it meant such a lot to have them in another bouquet celebrating 25 years later!!
They had a lovely day together and your bouquet was the icing on the cake!!
Many thanks to you all for your efforts! From the initial first email I sent to you, to the lovely person delivering the bouquet, you have all been so professional, helpful and accommodating!
You're all bringing a lot of happiness to people and doing a brilliant job!! Keep up the good work!
With kind regards
Hilary - 05/11/2020
---
........ I have never ever been the recipient of such a fabulous and huge bouquet of flowers! So, the surprise and delight you have given me makes it almost worth being 70 - (since that was inevitable anyway!), it has certainly softened the blow

Thank you so much, they are now safely transferred to the largest vase I own, looking stunning, and set to bring me days of joy!
Jan - 30/09/20
---
Thank you for the gorgeous flowers very, very kindly delivered to our office. The bouquets are beautiful and your service excellent. We will definitely be using you again.
Susan - 20/08/20
---
Thanks for the beautiful flowers. Jill loved them.
Bary - 27/06/20
---
Good afternoon Kim,
I spoke to my sister over the weekend and she was so very happy with the Christmas basket- the chocolate/fruit combination, choice of fruits and the overall obvious care you took with the presentation and delivery; the hand written card…..
So thank you. It is so helpful to have a quality item go to those you love, when we live so far apart!
Mary - 13/01/20
---
This is a thank you for our bouquet. The service was excellent. Mandy was delighted and surprised by the standard and quality. We are both very happy and will use your services again. Once again thank you
Alan Slater - 26/03/18
---
Thanks Starlings of Swaffham for the lovely bouquet you did for me to give to mum!
Julie Brooks
---
Beautiful flowers every time. Thank you starlings xx
Heidi Anne Easton
---
To you lovely people at Starlings...
...just a quick e mail to thank you so very much for 2 stunning arrangements over the last 2 weeks.
Beautiful!
Thank you again.
Mandy x
---
Once again stunning flowers from Starlings
Alana Bennett
---
Dear Kim. I wanted to say thank you again for the beautiful flowers and the way you helped to make ordering them so easy. Your service was excellent. I will always recommend you at any opportunity.
My cousin said that my flowers were were commented on with such enthusiasm. My Thanks And Best Wishes To You All.
Paul
---
Whow, having just moved to Swaffham we discovered "Starlings". We have found staff fantastic, friendly and helpful. Quality of fruit and vegetables (local suppliers) superb and the taste unbelievable. However, three weeks running have been amazed at the extreme high standard of bouquets, floral tributes, window displays. They have been created with care, imagination, and really outstanding. Don't have any doubts as to quality, speak to them regarding your requirements, whether fruit and vegetables, or something extra special involving flowers, we hope you will be impressed as we are.
Rosemary Lyon
---
"Starlings have contributed so very much to my enjoyment at living in Swaffham! I was overjoyed when I discovered this wonderful shop. It is run with the true old fashioned principles of friendly helpful service and a real pride in the service and goods that they provide. So unique in this world of supermarkets! It is a joy to go in there and it is always buzzing with life! This 60 year old business has superb florists and the flowers are unbelievably fresh. They are sourced from Lincolnshire and direct from the growers in Holland. They take pride in offering local produce such as Asparagus, Strawberries and raspberries not to mention fabulous local grown tomatoes, skalds and greens. They also have the pick of luxury foods from abroad such as wonderful dates and apricots as well as superb olive oil and honey to mention a few. They strenght is in having the best! Swaffham is very lucky to have wonderful Starlings florists and greenrocers in its midst!
JSBach / Yell.com review - 16/06/2015
---
My Mother lives near Swaffham and I live in America. I used to use one of the international flower delivery services to send flowers for Mother's day and for her birthday. They were usually OK, but one time the flowers were not particularly good and I had paid quite a lot of money, so I thought, "Why don't I just call a florist in Swaffham?" (After all, international phone rates have been quite cheap for several years now.) I have never regretted that decision, and have been using Starling's to deliver flowers for several years now. Kim knows me and she is always very helpful. Best of all, when I speak to my Mother, she always tells me how lovely and fresh the flowers are.
The last two years Kim has included a fruit basket for Mother's day, and my mother told me recently it was the best fruit she has ever had -- every piece was delicious and perfectly ripe. I am grateful that there is such a good florist like Starling's in the Swaffham area and I have no intention of shopping anywhere else. Also, I would rather support a local business than some big anonymous internet company. You never know what you'll get with them, and I prefer to deal with a real live person who knows me.

Andrew Benton
Philadelphia, USA
---
I would like to thank Starlings of Swaffham for my beautiful flowers. I asked for a specific design which was matched perfectly, in fact it was better!! The flowers used were top quality with the colours so radiant. The price was also half the price of what I was quoted at a well-known florist chain. I will absolutely be using Starlings again because of the 5* personal service provided. Thank you.
I love the flowers thank you.

Clare Biggie
---
The best and only florist I would use they go out there way to help you so thank you all that work there x
Rob
Swaffham
---
Dear Girls at Starlings, Thank you so much for Vicky's lovely wedding flowers, the church looked fantastic. Vicky was so pleased she had a terrific day and ended up playing football in her wedding dress.. !! Thank you once again for the excellent flowers.
Pat Sherwood
---
"Dear Starlings staff, You have just delivered this lovely "bunch" to me, which I am so thrilled, with that I want to try to send you a picture of it. Many thanks for all your work!"
Diana Fullbrook
---
Many thanks for helping arrange the bridal bouquet. As Danish tradition it was the grooms task to provide a bouquet. A daunting task that was made far easier with your help and guidance. His bride adored the flowers and enhanced a beautiful day. Many thanks Wendy.

Wendy Gould
Sporle
---